Congratulations to BARTON MATTHEWS
Pastries, Port & Paella
Pastries, Port & Paella
BARTON MATTHEWS
Eurobound
Category: Senior, for travelers age 60 and over
EURAIL PASS DETAILS
7 Day Itinerary, 7 Rail Days
Eurail Global Pass – Senior
7-days of travel in 1-month, Flexi pass
1st- or 2nd-class
Webinar Registration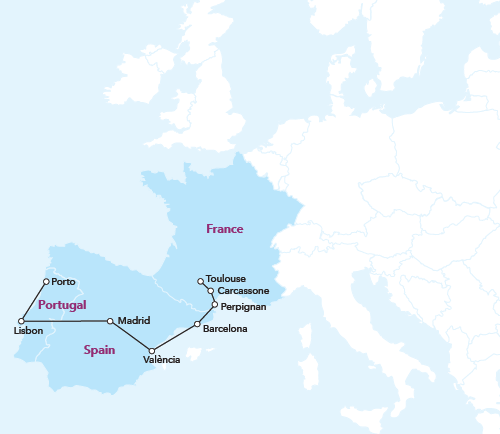 ITINERARY
---
TOULOUSE TO CARCASSONE: Your first stop will be at a boulangerie before spending the morning at the UNESCO-listed Saint-Sernin Basilica in Toulouse. Afterwards, we will take a short direct train to Carcassonne, whose hilltop location and medieval fortification make for a striking afternoon exploration.
---
CARCASSONE TO PERPIGNAN: It's time to take the coastline hugging direct train to Perpignan, one of France's most underrated cities. Salvador Dali claimed that Perpignan station was the center of the universe, making the station unique in the train world! Framed by the Pyrenees peaks the city was historically the capital of the Mallorcan kingdom and the King's Palace is still well worth a visit. The region is nowadays famous for its title-winning Rugby team and its incredible anchovies...both of which can be enjoyed on a sunny afternoon.
---
PERPIGNAN TO BARCELONA: Now for some Spanish sun. Hop on the direct train to Barcelona and spend the afternoon exploring Gaudi's architectural masterpieces across the city. Live like a local and create your own picnic with warm bread and freshly cut Jamón Ibérico from a local store as you lounge in the surreal Park Guell.
---
BARCELONA TO VALENCIA: This route traces the coast down to Valencia where you will first head to the Mercado Centralin market to try the amazing Paella in the city where it was first created! Very much a city on-the-up, visit the recently opened (and architecturally striking) 'City of Arts and Sciences' and 'L'Oceanogràfic' which the locals are very rightly proud.
---
VALENCIA TO MADRID: This short train ride takes you to the capital where you are spoiled for choice of activities. Revel in regalia at the Royal Palace or peruse The Prado's world-class art collection. For a more relaxed approach, and after a siesta, take a boat out on the vast 19th century El Retiro Park with its lovely fountains and atmosphere.
---
MADRID TO LISBON: Why waste a night when Portugal awaits! Take the Trenhotel international night train on the Lusitania line and wake up refreshed in Lisbon! Take a street art tour utilizing the brightly colored trams to get around and be sure to feast on seafood that the city is known for. The night train also lets us make the most of the day and the short round-trip to Sintra Palace is the perfect way to make the most of the afternoon.
---
LISBON TO PORTO: Your journey will wrap up with the direct train to Porto, Portugal's second city that refuses to be outdone. Join a local guide for a Port tour of the cities eponymous drink and sip your favorite as the sun sets on the banks of the Duoro before heading back home.